The Best Possible Round of Golf
What'd the best score technically possible at the Masters? Augusta has had its fair share of amazing shots. Here's all of them.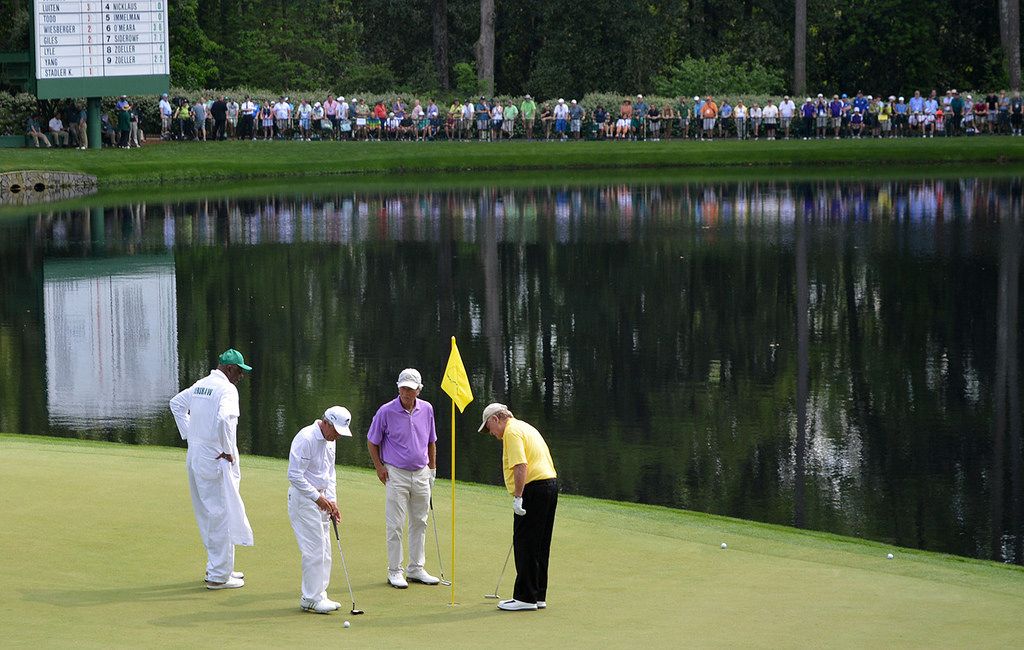 In 1997, a 21 year old Tiger Woods two-putted for a par on the 18th green of Augusta National Golf Club to win the Masters.
He not only became the youngest player to ever win the tournament, but also beat Jack Nicklaus' 1965 record round of 17 strokes under par, by one stroke (-18). That record continues to stand today as the lowest score ever played at the Masters (Jordan Spieth tied it in 2015).
In Tiger's iconic '97 win, his score looked something like this:
Tiger Woods 1997 Masters Tournament
Hole
1
2
3
4
5
6
7
8
9
Out
10
11
12
13
14
15
16
17
18
In
Total
Par
4
5
4
3
4
3
4
5
4
36
4
4
3
5
4
5
3
4
4
36
72
Round 1
5
5
4
4
4
3
4
6
5
40
3
4
2
4
4
3
3
3
4
30
70
1
1
1
2
2
2
2
3
4
4
3
3
2
1
1
-1
-1
-2
-2
-2
-2
Round 2
4
4
5
3
3
3
4
4
4
34
4
4
3
3
3
4
3
4
4
32
66
-2
-3
-2
-2
-3
-3
-3
-4
-4
-4
-4
-4
-4
-6
-7
-8
-8
-8
-8
-8
-8
Round 3
4
4
4
3
3
3
3
4
4
32
4
3
3
5
4
4
3
4
3
33
65
-8
-9
-9
-9
-10
-10
-11
-12
-12
-12
-12
-13
-13
-13
-13
-14
-14
-14
-15
-15
-15
Round 4
4
4
4
3
5
3
5
4
4
36
4
3
3
4
3
5
3
4
4
33
69
-15
-16
-16
-16
-15
-15
-14
-15
-15
-15
-15
-16
-16
-17
-18
-18
-18
-18
-18
-18
-18
One thing we immediately see from this, is the terrible start. Tiger finished the first 9 of the first round 4 over. It took him the rest of the round to remedy (thanks, in part, to an eagle on 15).
But what if he hadn't had that bad start? What if he had played the first 9 of round 1 the way he played the first 9 on round 2? In fact, what's the best score you could possibly get at Augusta National?
The Impossible Game
In the following few pages, we're going to go through 84 years of player data at the Masters. We'll see some of the greatest shots in golf history, dating back to the very first Masters in 1935. But first, some context.
Changes to the Course
Before we can lay out our impossible game, we have to recognize that Augusta National has changed over the years. Many of these changes were made during the 1950s to expand the course slightly, then again in 2011 by Tom Fazio to lengthen holes and make them more difficult. We'll talk about each of the relevant changes where necessary, and try to base our calculations on how the course would play today. Course change information will be highlighted by the yellow box you see around this section.
Let's get started.
Hole #1 - Tea Olive
Par 4 - Currently 445 Yards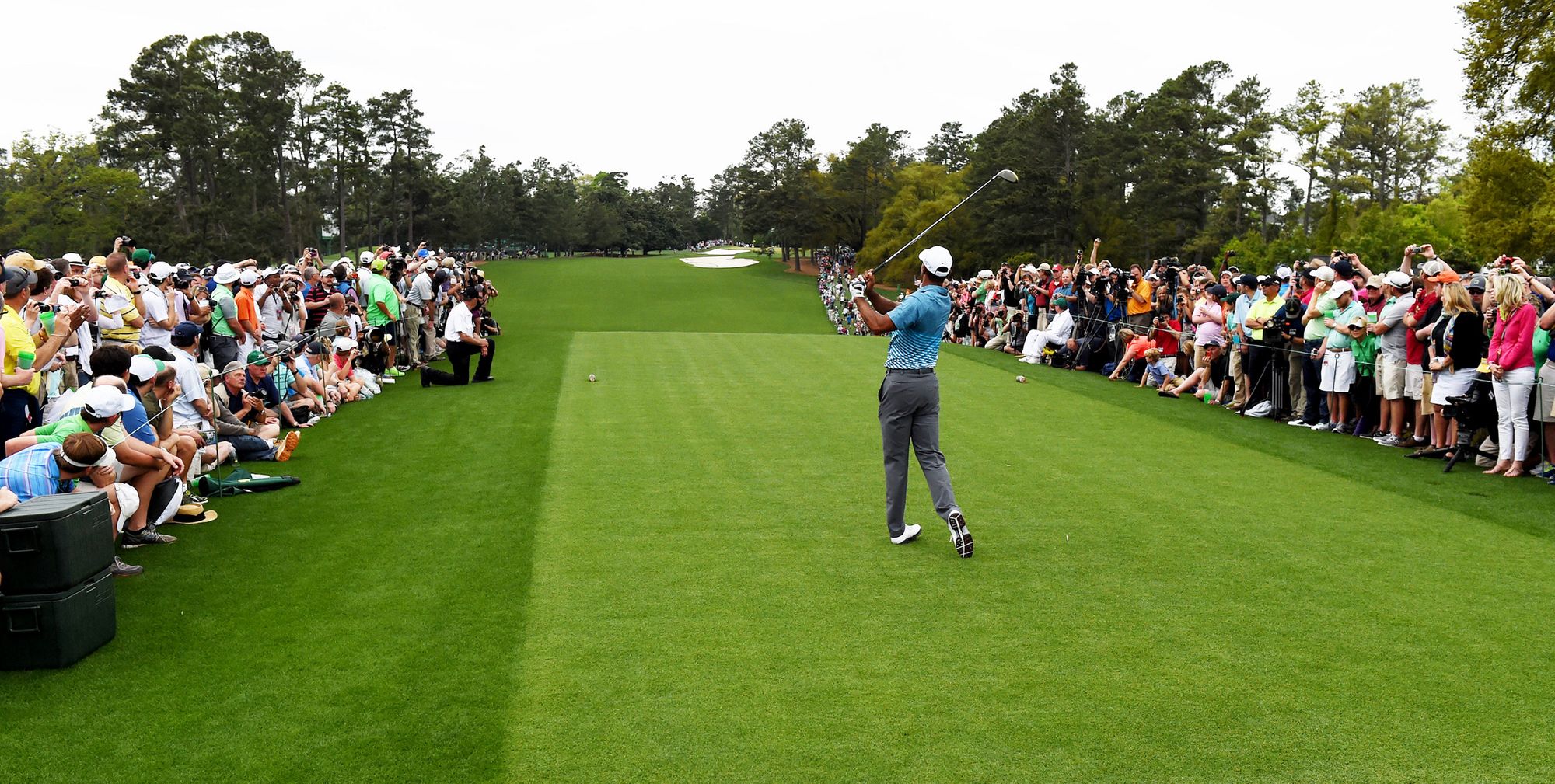 The slight dogleg right of Tea Olive is not the easiest hole on the course, but also not the hardest. Most players attempt a ~300 yard drive to have a shot at the green on stroke 2. Unsurprisingly, Tea Olive has been eagled several times. The first in 1940 by Frank Moore. In 1968 it was eagled by Roberto De Vicenzo, and then again in 1970 by Takaaki Kono. While all of these scores occurred before the hole was lengthened in 2011 (previously 400 yards), there's no real reason someone couldn't hit a 300 yard drive to the fairway, then hit a ~145 yard shot to the green and into the hole. That gives us an eagle on the first hole and we start 2 under par.
Score: -2
Hole #2 - Pink Dogwood
Par 5 - Currently 575 Yards
Let's fast forward to 2012. Louis Oosthuizen lines up his second shot on Pink Dogwood after hitting a monster 322 yard drive. Using a 4-iron, Oosthuizen hits another bomb 253 yards to the green. In a wild bout of luck (and an insane amount of skill), the precise placement of that second shot allowed the ball to role an astonishing 80 feet towards the pin and gracefully tap the bottom of the cup. In 77 years of Masters golf, Oosthuizen had become the first person ever to double eagle Pink Dogwood. For our impossible game, we'll use his incredible shot and mark down another 2.
Score: -5
Hole #3 - Flowering Peach
Par 4 - Currently 350 Yards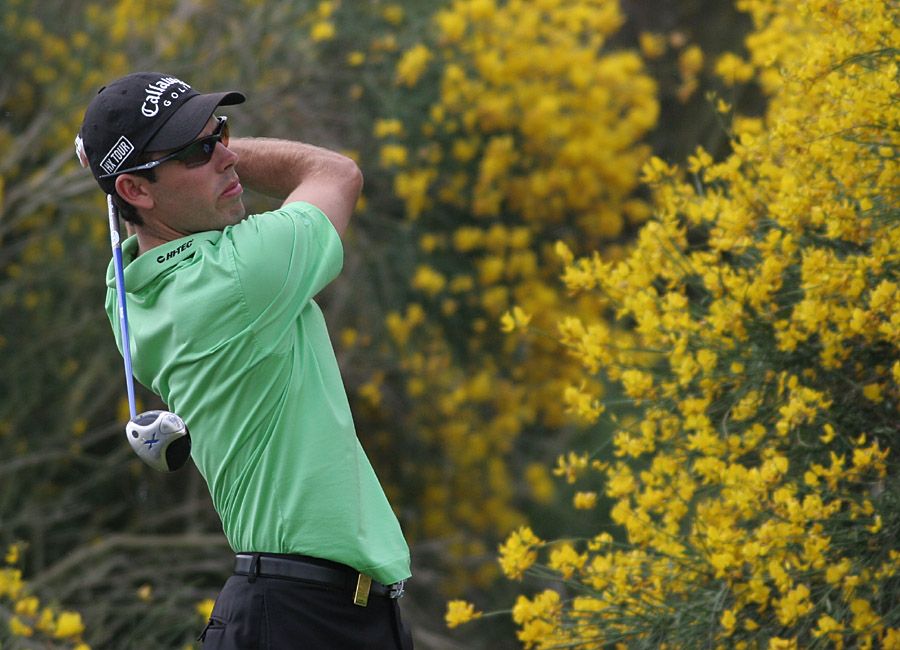 A list of legends grace the eagles on Flowering Peach. Curtis Strange (1985), Raymond Floyd (1991), Larry Mize (2000), Justin Rose (2014), and of course, Charl Schwartzel in 2011. Schwartzel became the third South African to win the green jacket in 2011, following Gary Player in 1961 and Trevor Immelman in 2008. His clutch eagle followed a chip-in birdie on one, tying the lead. He bogeyed 4 though and stayed at par until hole 14. On 14, and the last four holes, he scored birdie, putting him back in the lead, and winning him a green jacket. Again, we'll take a box from Charl's scorecard and eagle #3.
Score: -7
Hole #4 - Flowering Crab Apple
Par 3 - Currently 240 Yards
Changes to the Course
The tee box of Flowering Crab Apple was moved back 35 yards in 2006 in an attempt to make the hole more difficult. When Jeff Sluman hit his hole-in-one in 1992, the hole was only 205 yards long. Today it is 240 yards long.
In the first round of the '92 Masters, Jeff Sluman hit his 4-iron 213 yards, landing right in the middle of the green, letting the ball role back and into the hole. "I gave the ball to my mother," Sluman said. The Chicago native is still the only person in Masters history to hole-in-one No. 4. "I think that might be as difficult a hole as Augusta has," noted Sluman. The hole was lengthened in 2006 by 35 yards and, technically, no one has eagled No. 4 in its current layout. Granted, it's current length of 240 yards is very much hittable by pro golfers. For that reason we'll mark down another eagle for Crab Apple, mimicking Sluman's shot.
Score: -9
Hole #5 - Magnolia
Par 4 - Currently 495 Yards
Changes to the Course
The bunkers on the left side of the fairway were moved 80 yards towards the green in 2008, making them a more of an obstacle for modern who can drive 300 yards or more. The tees were moved back 40 yards in 2018.
A handful of great golfers have eagled Magnolia. They include Art Wall Jr. in 1974, Curtis Strange in 1987, and, most recently, Russell Henley in 2017. But the most impressive by far came in 1995 when Jack Nicklaus eagled No. 5 twice. That's right, Golden Bear himself hooked the dogleg left then hit a 5-iron 180 yards to the hole in the first and third rounds of the 1995 Masters. Another 2 on our scorecard then.
Score: -11
Hole #6 - Juniper
Par 3 - Currently 180 Yards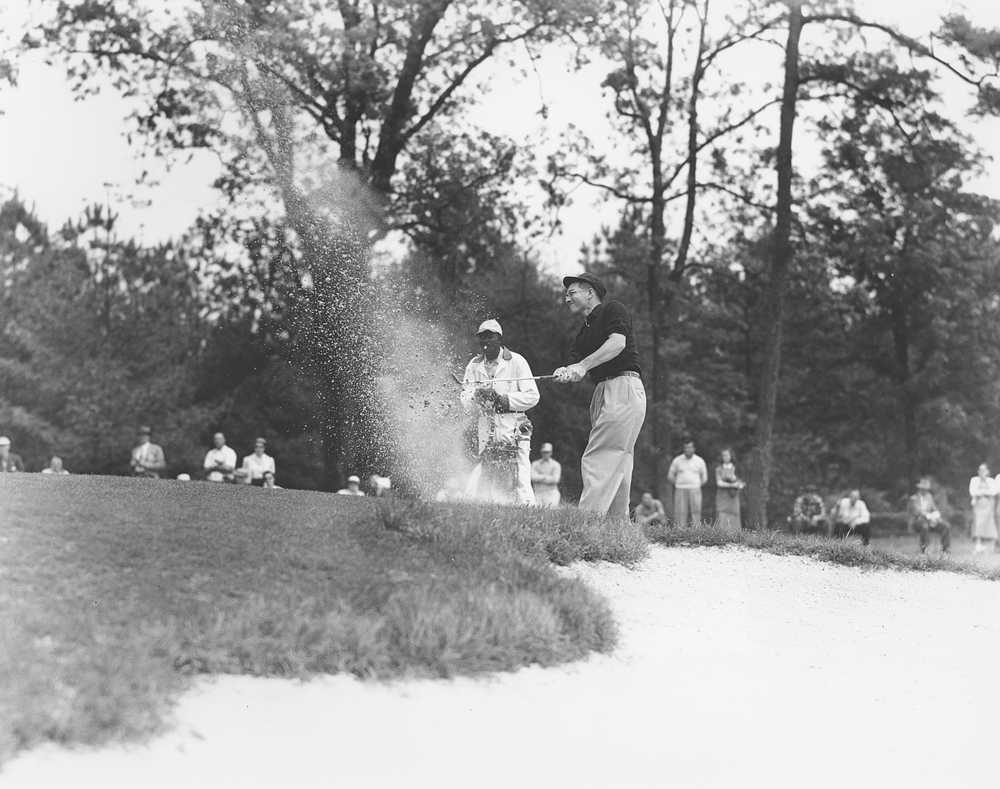 Juniper is a nice and easy downhill par 3 to the most deceivingly difficult green you've ever seen. If not for the infamous bumps, hills, and grooves surrounding the pin, hole No. 6 would likely be one of the most eagled holes on the course. But alas, only four players have ever done it: William Patton and Leland Gibson (both in 1954), Charles Coody (1972), and Chris DiMarco (2004). The hole has experienced notedly little change over the years because it's just always been difficult. We get really lucky (and I mean really lucky) and shoot the hole from the tee box.
Score: -13
Hole #7 - Pampas
Par 4 - Currently 450 Yards
Changes to the Course
In 2006, hole 7 underwent several changes to increase it's difficulty and flexibility. For starters, the tee box was moved back 35 yards. Secondly, trees were added along the sides of the fairway to make the hole more narrow. And lastly, the green was rebuilt so as to allow for the right-rear pin position.
You knew I'd get you a video of Tiger eventually. Woods would go on to lose the 2010 Masters to Phil Mickelson (we'll see more of him later), but this shot is easily one of the best. Pampas is a straight and narrow par 4 that leads to a fairly simple green. Birdies are very common for those that can keep it on the fairway. We of course, will be taking yet another eagle, just like Tiger.
Score: -15
Hole #8 - Yellow Jasmine
Par 5 - Currently 570 Yards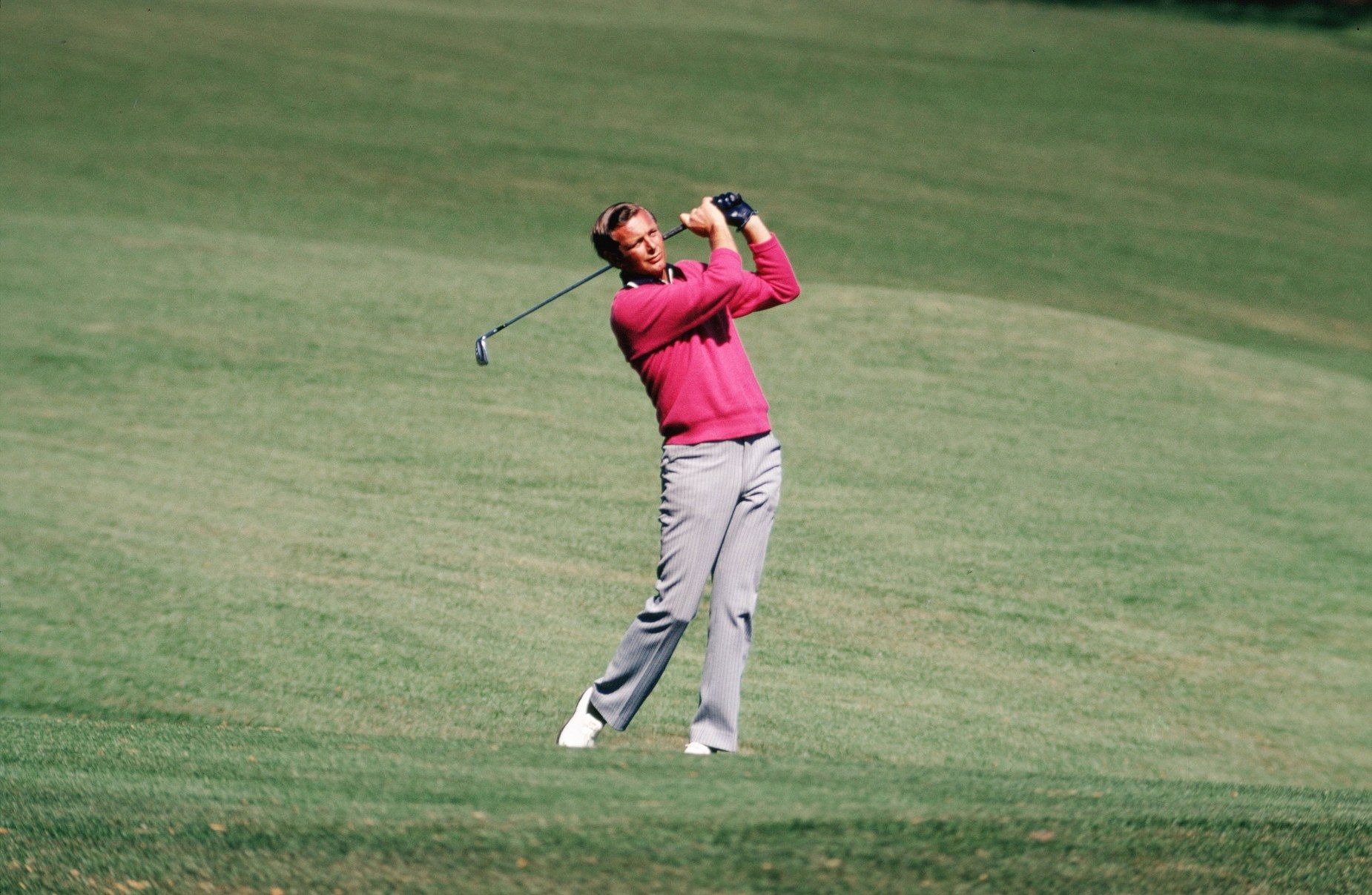 Changes to the Course
In 2002, the tee box of 8 was moved back and to the golfers right about 20 yards. The fairway bunker on the right of the hole was also reshaped and doubled in size.
Bruce Devlin's tee shot was a lazer down the right side of fairway. It sailed over the right-side bunker and landed in a soft section of rough, about 320 yards away. His second shot, was a 248 yard thing of legends. The ball placement in the rough had given him just enough lift under the ball to be able to hit his 4 wood. That lucky ball placement would allow Devlin to shoot the green, and (can you see where this is going?) the hole. The crowd roared but because of the uphill angle of Yellow Jasmine, Devlin couldn't see his ball. It wasn't until he walked up to the green that he realized what a fantastic shot he had hit.
Devlin became the second person ever to hit a double eagle at Augusta (the first was Gene Sarazen in 1935, scroll down to hole 15 for more on that). His remains the only double eagle ever to be hit on Yellow Jasmine.
For us? You know the drill.
Score: -18
Hole #9 - Carolina Cherry
Par 4 - Currently 460 Yards
Only two people have ever eagled No. 9 at Augusta National. Those would be Earl Stewart Jr. in 1954, and Bill Haas in 2013. While the hole is not particularly long, nor the end of the fairway particularly narrow, the green is the steepest on the entire course. We'll become the third on this short list and round out the front nine on our impossible game.
Score: -20
Hole #10 - Camellia
Par 4 - Currently 495 Yards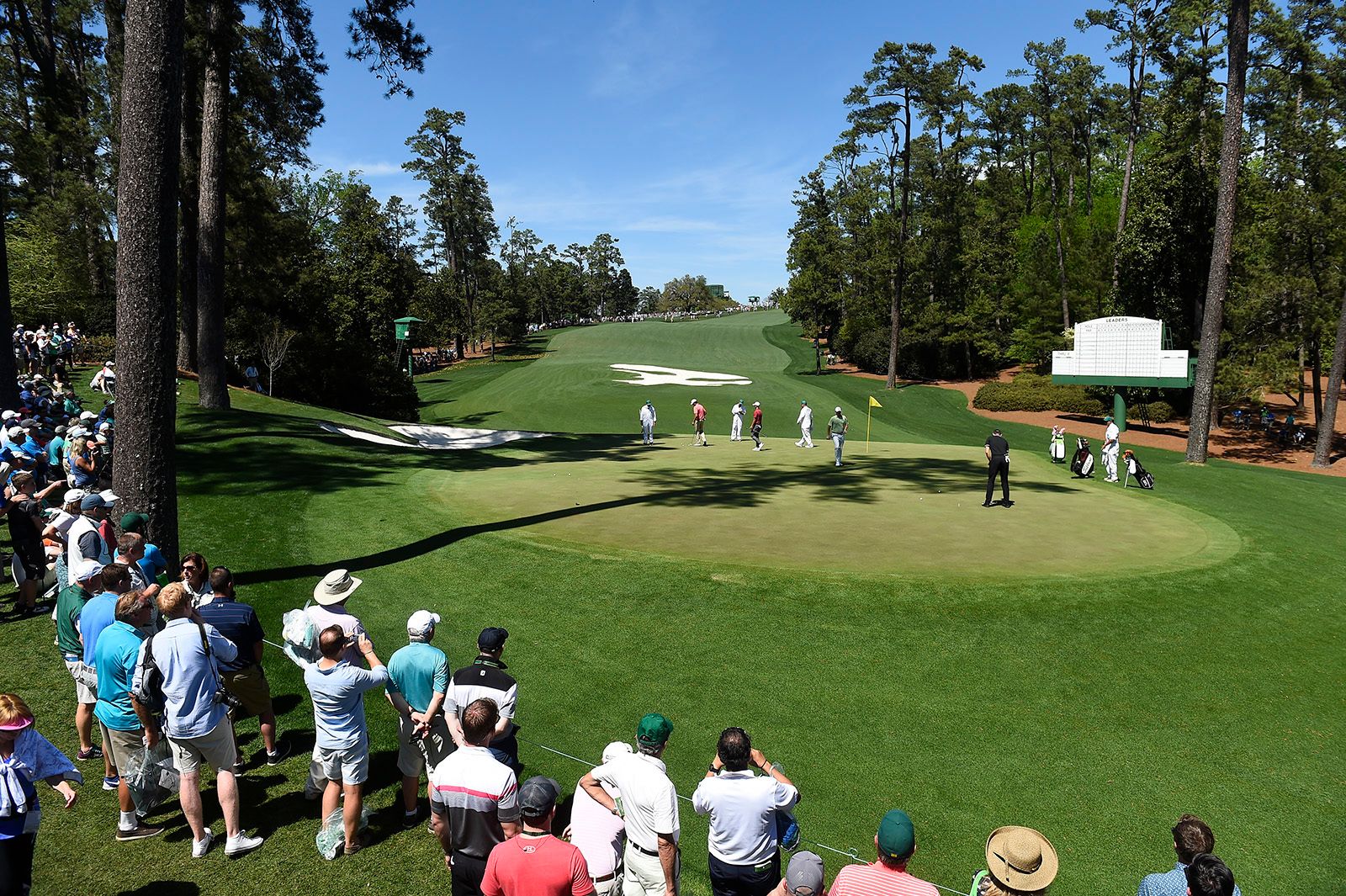 Brandt Jobe famously eagled Camellia in 2006. He says best, and most others agree, that No. 10 is the most difficult hole at Augusta. The tee shot requires a hard hook if you want to have a chance at the green on your second shot, plus it needs to be accurate. Too far left and you're in the trees, too far right and you'll be out of range for your follow up. Jobe himself tells it best:
I'll never forget that shot at 10, it shocked me. I kind of jumped. I wasn't ready for it. You're out there grinding and grinding and grinding—and then it goes in. It's certainly not my favorite hole at Augusta. You're standing on your head to hit your second shot there.

On the tee, you've got to get it out there 270 or 280 to get the rollout and carry down the hill. There's a guy named Bubba who can hit wedge in on his second shot but I've never experienced that. Then you're on a downhill lie hitting to an uphill green, anticipating it to draw and aiming at the right bunker. It's a very demanding hole. That's the course. There are no breather shots out there. The second shot at 10 is one of those shot where you've got to man up and hit a good one.

It's a great hole and has withstood the test of time. That's why it's a great hole. Everybody is getting ready for 12 and Amen Corner and they know 11 is a bear and 13 can be dangerous but 10, 11, 12—that's the gantlet, the toughest part of the course.
-- Brandt Jobe in 2006
Score: -22
Hole #11 - White Dogwood
Par 4 - Currently 505 Yards
White Dogwood is one of the most recognizable and coveted holes in golf lore. The start of Amen Corner and the longest par 4 on the course, it's easy to see that No. 11 has been consistently voted the most difficult hole in recent years. A slight fade is required off the tee to get a good placement on the fairway, then you have to navigate around the pond hugging the left side of the green. Before 2002, only one person had ever eagled No. 11; Jerry Barber in 1962. Since 2002 though, four players have made eagles: Brad Faxon (2002), K.J. Choi (2004), Rory Sabbatini (2006), and Stephen Ames (2008). We'll take Choi's 220-yard, 2004 shot from the final round as ours to match.
Score: -24
Hole #12 - Golden Bell
Par 3 - Currently 155 Yards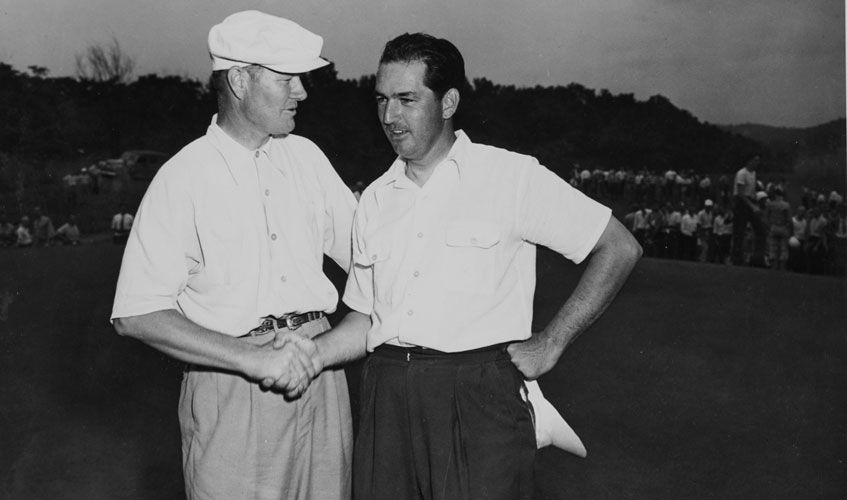 The 1947 Masters paired the peremptory Ben Hogan with the kindly Claude Harmon. As much as Ben Hogan was terse and short, Harmon was known as a particularly good teacher. So good, in fact, he taught four presidents (Eisenhower, Kennedy, Nixon and Ford).
On that faithful day in 1947, Harmon hit the first-ever ace on the twelfth. Hogan, meanwhile, puffed on his cigarette. His shot landed a few feet past the cup, which he knocked in for a birdie. On their way to the 13th green, Hogan said to Harmon, "You know, Claude, that's the first 2 I've ever made on that hole."
Score: -26
Hole #13 - Azalea
Par 5 - Currently 515 Yards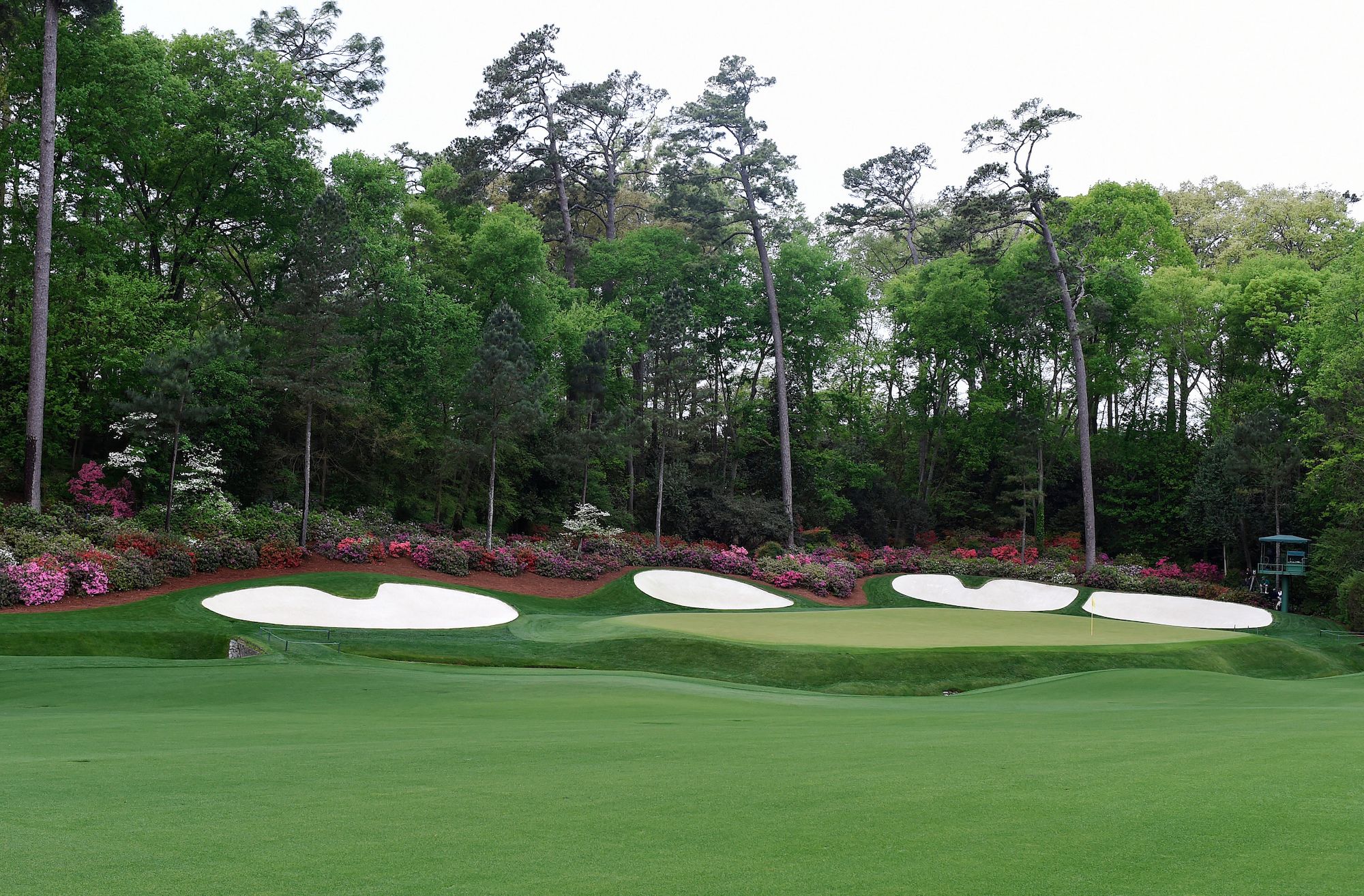 It's not fun to have the first tee time at the Masters. But in 1994 that is exactly where Jeff Maggert found himself. The 30 year old had shot an 82 the day before, barely making the cut for the final round. At the 13th, he hit a decent drive, 222 yards out. After watching Mid-Ametuer champion Danny Yates' ball roll off the back and into a bunker, Maggert fetched a Ping Eye Two 3-iron and whacked the ball. The tiny crowd roared like a group of children who are very, very far away as the ball (with quite a bit of speed according to Maggert) hit the pin and dropped cleanly into the cup.
Even with his record-setting albatross, Maggert still scored a 75 on the round and a 305 total, putting him dead last. Incredibly, seven years later he sunk another double-eagle on hole 6 at Royal Lytham & St. Anne's for the 2001 Open Championship (making him the only person ever to shoot to double-eagles in tournament play). He shot a 76 and missed the cut.
We'll continue on like this was insane skill instead of dumb luck...
Score: -29
Hole #14 - Chinese Fir
Par 4 - Currently 440 Yards
Phil Mickelson was very grateful not to have to putt the green of No. 14 in 2010. His eagle appended his name to a long list of golfers who have eagled this hole including Ray Floyd in 1984, Tiger Woods in 2006, and Dustin Johnson in 2009. Phil's 2010 eagle is special though because it's one of only three people on our list to have won the tournament in the same year as their impossible shot. It also was his third Masters victory, adding him to an even more exclusive list of players who have won the Masters three or more times (Jack Nicklaus (6), Arnold Palmer (4), Tiger Woods (4), Jimmy Demaret, (3), Sam Snead (3), Gary Player (3), Nick Faldo (3)).
Score: -31
Hole #15 - Firethorn
Par 5 - Currently 530 Yards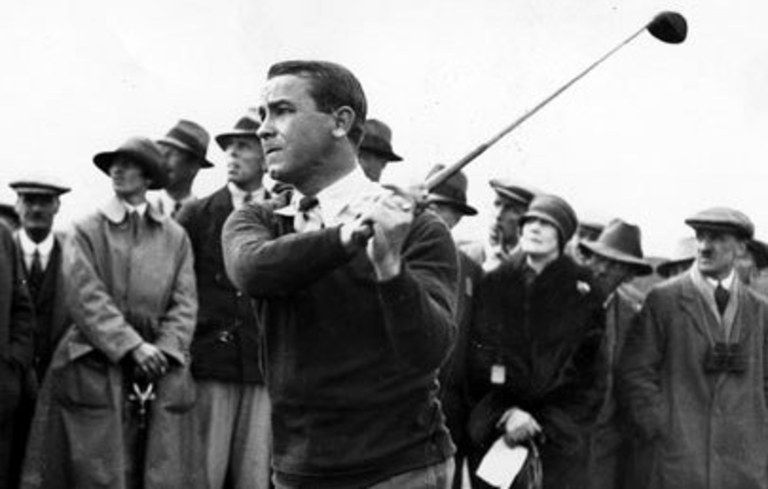 Changes to the Course
The tee box of 15 was moved back 20 yards and to the left 25 yards in 2006.
Just like our other par 5's, No. 15 has only been double eagled once, and it was in only the second ever Masters tournament. The "shot heard around the world" was, and still is, one of the greatest shots in golf history. Sarazen's 232 yard albatross would bring him to up to tie the leader, Craig Wood. He pared the 16th, 17th, and 18th ending the round tied with Wood. The next day the two played a 36 hole playoff, Sarazen besting Wood by 5 strokes.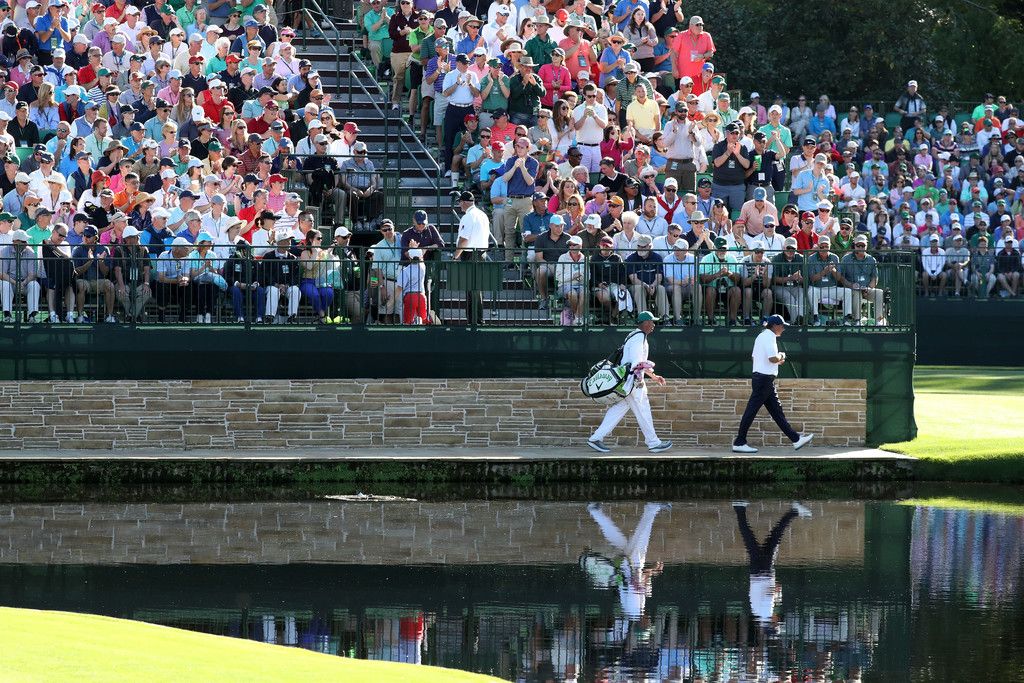 The Sarazen Bridge, on the left side of the pond before Firethorn's green was dedicated in 1955 in his honor. On the same day, a closest-to-the-pin competition was held from the approximate spot of Sarazen's 2nd shot. Fred Haas was the closest at 4 feet, 1 inch from the pin. Sarazen himself watched on, but did not compete. Haas tied for 10th at the 1950 Masters, but never did any better, and finished his career with zero major championship wins.
Score: -34
Hole #16 - Redbud
Par 3 - Currently 170 Yards
The legendary Ray Floyd was the first person to hit a televised hole-in-one on No. 16 in 1996. The very first hole-in-one goes to C. Ross Somerville, who aced it at the very first Masters Invitational in 1934. Since then, 19 more players have gone on to ace the hole. 13 of them have been in the final round.
Score: -36
What was that? You want to see all 13 final round hole-in-ones? Well then, ask and you shall receive.
Hole #17 - Nandina
Par 4 - Currently 440 Yards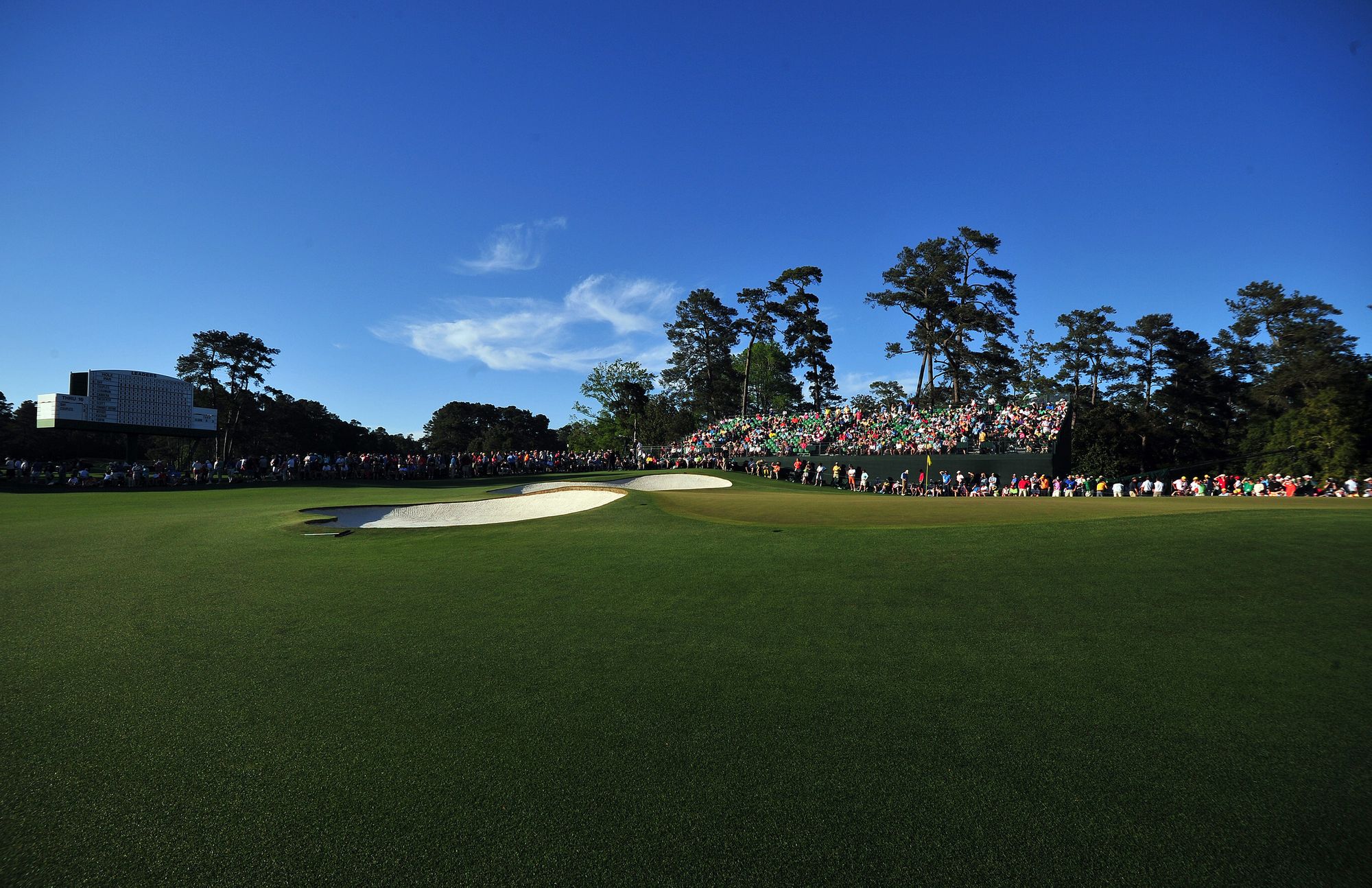 Previous home of the infamous Eisenhower tree, No. 17 is a modest par 4 with a pair of bunkers at the front of the green. It's been eagled twice: once in 1969 by Takaaki Kono, then again in 1998 by Davis Love III.
Score: -38
Hole #18 - Holly
Par 4 - Currently 465 Yards
Changes to the Course
In 2002, the tee box was moved back 55 yards, lengthening the hole from 425 yards to it's current 465.
The 18th green at Augusta is shrouded in prestige. Many a celebration and soul-crushing defeat has occurred on that grass. While Jim Colbert was more or less out of the running to beat Gary Player in 1974, he did have the added flare of holing out his second shot. Three others have also eagled 18; Felice Torza in 1948, John Huston in 1997, and Doug Ghim in 2018.
Score: -40
Conclusion
A score of 40 under par on a single round is hilariously impossible, but, fun to imagine none the less. It's almost certain that no one will ever even approach that score. Tiger's 1997 -18 was over four rounds. If you played -40 for four rounds in a row, you'd be at -160. Eat your heart out Tiger.
If we were to look at a more reasonable round, say Tiger's from the beginning of the article, we could make some improvements. Tiger's first round in '97 was rough. He bogeyed 1, 4, 8, and 9, rounding out the front front nine at a 40. Say he made par on those instead? That drops him down to -22 for the tournament (a new record). Over the rest of the weekend he consistently birdied 2, 5 and 8. Had he done that in the first round, he would have robed the green jacket at a cool 25 strokes under par.
So the best round possible? Technically a 32.
Data
This article required a lot of number crunching! I couldn't find any publicly available resources of historic Masters scoring data, so I decided to make my own. I wrote a script that crawled the Augusta historic records online, parsed the tables, and created a usable data set from that. See below for a SQL export of this data. It contains almost every hole, for every player, for every round ever played at the Masters, going back to 1934.
Summary of All Impossible Shots
No. 1 (Eagles): Frank Moore (1940), Roberto De Vicenzo (1968), Takaaki Kono (1970)
No. 2 (Double Eagles): Louis Oosthuizen (2012)
No. 3 (Eagles): Richard D Davies (1965), Bruce Crampton (1974), Victor Regalado (1975), Charles Coody (1983), Curtis Strange (1985), Ray Floyd (1991), Brett Ogle (1993), Colin Montgomerie (1999), Larry Mize (2000), Rocco Mediate (2000), Andres Romero (2009), Charl Schwartzel (2011), Luke Donald (2012), Carl Pettersson (2013), Justin Rose (2014), Thongchai Jaidee (2015), Morgan Hoffmann (2015)
No. 4 (Hole-in-ones): Jeff Sluman (1992)
No. 5 (Eagles): Art Wall Jr. (1974), Scott Hoch (1983), Curtis Strange (1987), Jack Nicklaus (1995), Jack Nicklaus (1995), Colin Montgomerie (2000), Rich Beem (2003), Russell Henley (2017)
No. 6 (Hole-in-ones): William Patton (1954), Leland Gibson (1954), Charles Coody (1972), Chris DiMarco (2004)
No. 7 (Eagles): Dick Mayer (1955), Jack Nicklaus (1976), Fuzzy Zoeller (1992), Ernie Els (1997), Larry Mize (1999), Ernie Els (2003), Brandt Jobe (2006), Miguel Angel Jimenez (2008), Tiger Woods (2010), Adam Scott (2010), Patrick Cantlay (2012), Kevin Chappell (2017), Marc Leishman (2017), Webb Simpson (2018)
No. 8 (Double Eagles): Bruce Devlin (1967)
No. 9 (Eagles): Earl Stewart Jr. (1954), Bill Haas (2013)
No. 10 (Eagles): Dick Metz (1940), Doug Ford (1960), Brandt Jobe (2006), Robert Allenby (2008)
No. 11 (Eagles): Jerry Barber (1962), Brad Faxon (2002), K.J. Choi (2004), Rory Sabbatini (2006), Stephen Ames (2008)
No. 12 (Hole-in-ones): Claude Harmon (1947), William Hyndman III (1959), Curtis Strange (1988)
No. 13 (Double Eagles): Jeff Maggert (1994)
No. 14 (Eagles): Felix Serafin (1946), Jim McHale Jr. (1951), Frank Stranahan (1954), Allen Miller (1975), Larry Ziegler (1976), Gil Morgan (1981), Dan Pohl (1982), Ray Floyd (1984), Isao Aoki (1988), Bill Britton (1990), Brett Ogle (1993), Lanny Wadkins (1994), Tiger Woods (2006), Nick Watney (2008), Dustin Johnson (2009), Phil Mickelson (2010), Thomas Bjorn (2013), Martin Kaymer (2016)
No. 15 (Double Eagles): Gene Sarazen (1935)
No. 16 (Hole-in-ones): C. Ross Somerville (1934), Willie Goggin (1935), Ray Billows (1940), John W. Dawson (1949), Corey Pavin (1992), Ray Floyd (1996), Padraig Harrington (2004), Kirk Triplett (2004), Trevor Immelman (2005), Ian Poulter (2008), Ryan Moore (2010), Nathan Green (2010), Bo Van Pelt (2012), Adam Scott (2012), Davis Love III (2016), Louis Oosthuizen (2016), Shane Lowry (2016), Matt Kuchar (2017), Charley Hoffman (2018)
No. 17 (Eagles): Takaaki Kono (1969), Davis Love III (1998)
No. 18 (Eagles): Felice Torza (1948), Jim Colbert (1974), John Huston (1997), Doug Ghim (2018)